The Private Box is a space where you and your company can enjoy golf as well as a drink and a bite like you would in a Lounge Box, but with the benefit of a more private setting. This way, the Private Box is optimal for small-scale meetings or an exclusive group.
Book your private box
Ask your question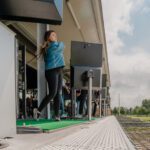 ' Zondag 2 april hebben wij ons golfmerk LENDgolf gelanceerd bij Golflounge Amsterdam. Dankzij het schitterende weer en de goede zorgen van Golflounge was de lancering een groot succes! Bedankt!'
Facilities and Prices
To come golfing at Golflounge Amsterdam the only thing you need to bring with you is a good mood! Clubs, balls and music will be taken care of. You can order something to eat or drink at the bar to make the experience complete*. All the games on the Trackman-screens are appropriate for every level of golf and are included in the price!
*Food and drinks are not included in the price when renting a Box.
More info
Book a box
Take a look at our other Boxes