Corporate events at the Golflounge
Combining the unexpected
Are you looking for a unique location for your event? One that combines play with business in a casual setting? The place you need is only a few minutes from the A9: Golflounge Amsterdam. Green surroundings, luxurious facilities, and an all-round easygoing vibe make for a feeling of escaping our busy lives to enjoy some company and exercise at the same time. With a wide range of possibilities, Golflounge Amsterdam is the ultimate place for any event, big or small. We have all you would need to enjoy your stay carefree. The golfing will take care of the rest.
Book your box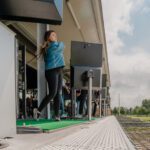 ' On Sunday April 2nd we launched our golf label LENDgolf at Golflounge Amsterdam. Thanks to the beautiful weather and the excellent care of Golflounge, the launch was a great success! Thank you!'
Facilities and spaces
Golflounge Amsterdam is very well-reachable. You can park on the guarded parking lot at our facility. Our location offers a luxurious lounge area with a maximum capacity of approximately 200 guests. Additionally, we have compacter Boxes available to combine with, or book apart from, the larger area as for example break-out rooms or smaller meetings. We possess everything you can think of in terms of audiovisual means: a beamer, full-space LED lights, a ready-to-use DJ set, even tv-screens with the possibility of narrowcasting in your business' style. Anything to fulfill your wishes we can realize. Furthermore, a vibrant bar with excellent beverages, finger food and friendly staff to make your experience complete. Extensive catering is possible on request and there are plenty options for overnight stays in the area.
More information
Book your box
Corporate event in the Lounge
The Lounge is convenient for large events like:
The interior of the Golflounge Amsterdam is modern, adjustable, and comfortable. When booking the Lounge for an event you can of course make use of the golf- and catering facilities. The canopy and heaters above the teeing places make playing weatherproof. The Trackman screens offer multiple games and the option to play a digitalized course. If you wish, you can request a golf pro to guide your players and help them to improve their game. The Lounge has a maximum capacity of approximately 200 guests. If you wish to visit us with a larger group, please consult us for the possibilities. The costs of the Golflounge are on request.
Ask us a question
Follow their example:
Smaller scaled event
Looking for a place to spend some time with a colleague? Meeting of brainstorming in peace at a unique, informal location with a small group? Our Boxes at Golflounge Amsterdam give you that opportunity and are foreseen with everything you need: comfortable seats and tv screens, and of course, teeing places.
The Boxes give you complete freedom and are used for meetings, drinks, and golfing. Do you want to use the Boxes without golf and care? Feel free to still come by!
At Golflounge Amsterdam we have 2 VIP Boxes with a max. capacity of 12 people and one Private Box with a max. capacity of 6 people. These Boxes are adaptable to your desired capacity by opening them up or closing them off. All at your request.
Costs of a Box
The costs of renting a VIP Box are €250,00 for 2 hours.
Do you want to stay for longer than 2 hours? Every extra hour costs €125,00.
Ask us for the possibilities or book your Box right now with the button below.
Book your box
More information
Professional guidance?
We would love to help you with organizing your successful business event! We have all expertise and connections to realize your greatest dreams. During the event, our hosts and staff will take the utmost care of you and your friends, colleagues, or business relations. We are enthusiastic and you can expect a quick reaction from us. Tell us what your wishes are and together we will look at how we can accomplish your desired, personalized event.
More information